Heat shrinkable sleeves production and selling.
Pipelines in polyurethane foam (PUF) insulation have become a real innovation in the field of organization of heating networks.
 
Thanks to the use of this type of pipes, the life of the heating networks has significantly increased, and the maintenance costs have been significantly reduced. And, most importantly, the heat loss during the transfer from the manufacturer to the consumers has decreased.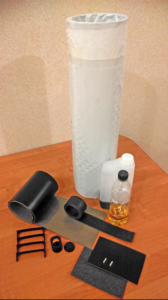 Designed for thermal insulation of welded joints of steel pipes insulated with polyurethane foam in a protective polyethylene pipe sheath or spiral sheath of galvanized sheet steel.
Depending on the type and method of installation of KZS couplings, there are four types:

    KZS (T)
    set of sealing joints with heat-shrinkable polyethylene coupling
    KZSl (T)
    lightweight sealing kit with heat shrinkable polyethylene coupling
    KZS (ES)
    set of sealing joints with heat-shrinkable polyethylene coupling and heating element
    KZS (C)
    set of sealing joints with galvanized coupling

The composition of the GLC includes the following materials:

    Heat-shrinkable tape LTAS
    Reinforced adhesive tape
    Plate two-layer castle LZA brands
    Component system of polyurethane foam "A" – polyol and "B" – isocyanate
    Cork assembly
    Deaerator plug
    Control wire holder
    Wire connector
    Galvanized sheet
    A heating element
    Heat shrinkable polyethylene coupling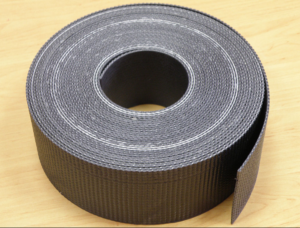 The tape is designed for sealing heat-shrinkable sleeves when installed on polymer sheaths of pipelines. The width of the tape (40, 80) mm, thickness (2.0 ± 0.2) mm.
Basic physical and mechanical properties of the tape:
| | |
| --- | --- |
| The name of indicators |   |
| Water absorption,%, not more | 2,0 |
| v Strength of adhesive bonding under shear at a temperature of (20 ± 5) ° С, N / cm2, not less than, from: |   |
| HDPE grades 273-83, PE80B-275 | 30 |
| radiation-modified LDPE | 40 |
Certificate of conformity
It must be understood that a proper installation of the pipeline is a prerequisite for saving energy efficiency. A particularly important point that experts pay attention to is the correct insulation of the pipe joints. The most reliable method of sealing joints is the use of a heat-shrinkable sleeve (thermal coupling).
[wpforms id="430" title="false" description="false"]